Error codes in Baumatic dishwashers offer vital insights into issues impacting the appliance's functionality. These codes empower users to quickly identify and address potential problems, with each code indicating a specific malfunction. Users can understand the nature of the issue before seeking technical support, making these error codes an essential guide to optimize the performance and ensure the longevity of Baumatic dishwashers.
Codes List
Procedure to enter this quick test mode:
Press the timer button and the power on button at the same time;
Then the initial stage is set with '17′ appearing on the LED display;
We can skip any step in the operating process by pressing programme button P on the panel. And the LED display is decreased by 1 per step to 16 —15—14—13 etc to 10. The sequence of this step is listed in the above table.
| Error Codes | Problem |
| --- | --- |
| E1 | No fill |
| E2 | No drain |
| E3 | NTC/Element fault |
| E4 | Overfilling |
| E5 | Cannot switch off automatically- programme not finishing (not for BDW13, 14 or 15) |
| E6 | OC Thermistor |
| E7 | SC Thermistor |
| 10 | End. One beep and appliance stops. |
| 11 | Drain Pump. Drain pump energised for approx. 20 seconds. |
| 12 | Regeneration Unit. Regeneration valve energised. |
| 13 | Element. Wash pump energised and element/s on for approx. 15 seconds. |
| 14 | Dispenser energised for approx. 10 seconds. |
| 15 | Wash pump energised with 3 second delay to check water level os okay. Wash for approx. 10 seconds after water valves switch off. |
| 16 | Water intake. Inlet valve energises for about 15 seconds. |
| 17 | Initiation. Power on and ready to run. |
Control Panel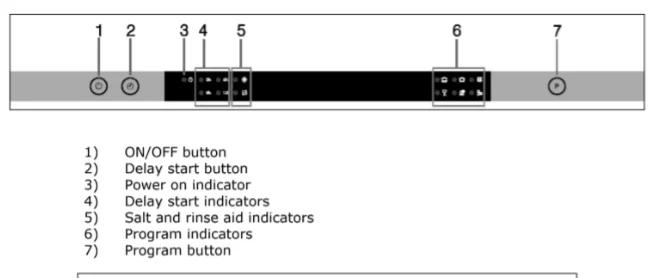 Troubleshooting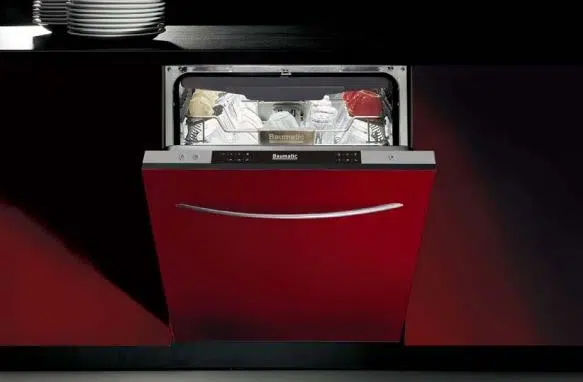 | Problem | What to do |
| --- | --- |
| Dishwasher doesn't start. | Replace the fuse or reset the circuit breaker. Remove any other appliances sharing the same circuit with the dishwasher. |
| Water does not drain from dishwasher. | Check the drain hose. Check the coarse filter. |
| Suds in the dishwasher. | Use only specific dishwasher detergent to avoid suds. If this occurs, open the dishwasher door and let the suds evaporate. Add 1 gallon of cold water to the interior and close the door. Select the RAPID program with no dishes loaded and allow the dishwasher to drain the water. Repeat if necessary. |
| Stained interior. | Make sure that the detergent used is one without colourant. |
| White film on interior surface. | To clean the interior, use a damp sponge with an appropriate dishwasher descaler and wear rubber gloves. Never use any other cleaner than those specifically for dishwashers for the risk of foaming or suds. |
| There are rust stains on the cutlery. | Avoid washing these items in the dishwasher and look for dishwasher-safe replacements in the future. |
| Knocking noise in the wash cabinet. | Interrupt the program and rearrange the items which are obstructing the spray arm. |
| Rattling noise in the wash cabinet. | Interrupt the program and rearrange the items of crockery. |
| Knocking noise in the water pipes. | This has no effect on the dishwasher performance but if in doubt, contact a suitably qualified plumber. |
| The dishes are not clean. | See the section on loading the dishwasher baskets for instructions. |
| Cloudiness on glassware. | Use less detergent if you have soft water and select the RAPID program to wash glassware and get them clean. |
| Black or grey marks on dishes. | Use a mild abrasive cleaner to eliminate those marks. |
| Detergent left in the dispenser. | Re-load the dishes properly. |
| The dishes are not drying. | Load the dishwasher as suggested in the relevant instructions. |
Parts Meaning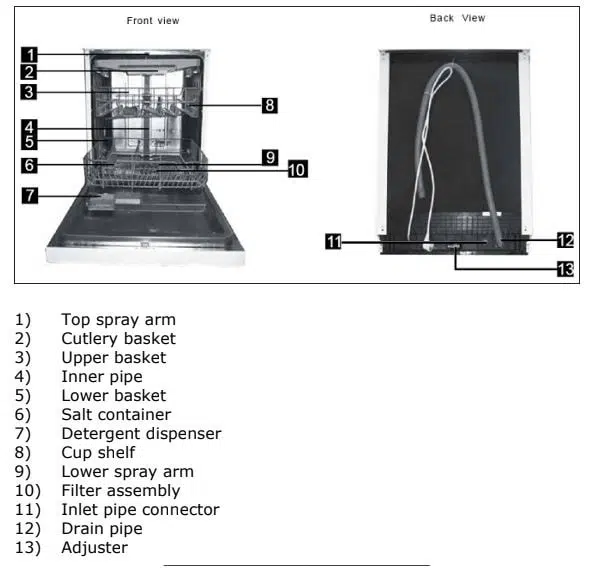 Manual Pdf
Baumatic Dishwasher Manual PDF
Latest posts by Dylan Joseph
(see all)