| Error Codes | Meaning |
| --- | --- |
| HHH | HHH displays when START/STOP button is pressed. Internal temperature of breadmaker is too high. Allow unit to cool down in between cycles. Unplug unit, open lid, and remove bread pan. Allow to cool 15–30 minutes before beginning new cycle. |
| E00 | Bread pan is too cold. Allow pan to come to room temperature. |
| E01 | Bread pan is too warm. Allow pan to cool down before using. |
| LLL | This warning means that the temperature inside of the bread pan is too low. The room temperature is too low for the breadmaker to function. |
| EEE | There is a problem with your breadmaker. Call Customer Service. |
Care and Cleaning
Disconnect power before cleaning. Do not immerse cord, plug, or housing in any liquid. Allow breadmaker to cool down completely before cleaning.
To clean kneading paddle: If the kneading paddle is difficult to remove from bread pan, add water to bottom of bread pan and allow to soak for up to 1 hour. Wipe paddle carefully with a damp cloth. The kneading paddle is dishwasher-safe.
To clean bread pan: Using handle, lift pan from baking chamber. Wipe inside and outside of bread pan with a damp cloth. Do not use any abrasive agents, in order to protect nonstick coating. Bread pan must be dried completely before installation. NOTE: Bread pan, kneading paddle, measuring cup, spoon, and paddle hook are dishwasher-safe. The outside of bread pan and base may discolor. This is normal.
To clean housing and top lid: After use, unplug and allow unit to cool. Use a damp cloth to wipe lid, housing, baking chamber, and interior of viewing window. Do not use any abrasive cleaners for cleaning, since this will degrade the high polish of the surface. Never immerse the housing into water for cleaning.
Before breadmaker is packed for storage, ensure that it has completely cooled down, is clean and dry, and top lid is closed.
Troubleshooting
| Trouble | Solution |
| --- | --- |
| Odor or burning smell. | Flour or other ingredients have spilled into baking chamber. Stop breadmaker and allow to cool completely. Wipe excess flour, etc., from baking chamber with a paper towel. TIP: Measure ingredients over counter, adding them to bread pan prior to insertion into machine. |
| Ingredients not blending; can hear motor turning. | Bread pan or kneading paddle may not be installed properly. Make sure kneading paddle is set all the way on shaft. |
| | Too many ingredients. Measure ingredients accurately. |
| Window is cloudy or covered with condensation. | May occur during mixing or rising cycles. Condensation usually disappears during baking cycle. Clean window well in between uses. |
| Kneading paddle comes out with bread. | Thicker crust with dark crust setting. Choose a lighter crust (Cycles 1, 2, 4, or 8 only). |
| | It is not uncommon for kneading paddle to come out with bread loaf. Once loaf cools, remove paddle with paddle hook. |
| Bread rises too high or pushes lid up. | Ingredients not measured properly (too much yeast, flour). Measure all ingredients accurately and make sure sugar and salt have been added. |
| | Kneading paddle not in bread pan. Check installation of kneading paddle. |
| | Forgot to add salt. |
| | Try decreasing yeast by 1/4 teaspoon (1.3 ml). |
| Dough is not blending thoroughly; flour and other ingredients are built up on sides of pan; bread loaf is coated with flour | Bread pan or kneading paddle may not be installed properly. Make sure bread pan is securely set in unit and kneading paddle is firmly on shaft. |
| | Too many dry ingredients. Make sure ingredients are measured accurately and added in the proper order. Use a rubber spatula to scrape sides of pan while bread baker is mixing to ensure all ingredients are blended. |
| | Gluten-free dough is typically very wet. It may need additional help by scraping sides with a rubber spatula. |
| Bread does not rise; loaf is short. | Inaccurate measurement of ingredients or inactive yeast. Measure all ingredients accurately. Check expiration date of yeast and flour. |
| | Lifting lid during cycles. |
| Bread has a crater in top of loaf once baked. | Dough has risen too fast. |
| | Too much yeast or water. Measure all ingredients accurately. Decrease yeast or water slightly. |
| | Incorrect cycle chosen for the recipe. |
| Crust color is too light. | Opening the lid during baking. Do not open lid during baking. |
| | Select a darker crust option (Cycles 1, 2, 4, or 8 only). |
| Crust color is too dark. | Too much sugar in the recipe. Decrease sugar amount slightly. |
| | Select a lighter crust option (Cycles 1, 2, 4, or 8 only). |
| Kneading paddle comes out with the bread. | Thicker crust with dark crust setting. Choose a lighter crust (Cycles 1, 2, 4, or 8 only). |
| | It is not uncommon for the kneading paddle to come out with the bread loaf. Once the loaf cools, remove the paddle with paddle hook. |
| Bread loaf is lopsided. | Too much yeast or water. Measure all ingredients accurately. Decrease yeast or water slightly. |
| | Kneading paddle pushes dough to one side before rising and baking. Some loaves may not be evenly shaped, particularly with whole-grain flour. |
| Loaves made are different shapes. | Varies by the type of bread. Whole-grain or multigrain is denser and may be shorter than a basic white bread. |
| Bottom of loaf is soggy. | Bread has remained in bread pan on Warm setting too long and absorbed moisture. End Warm setting by pressing and holding STOP. Remove bread from bread pan using oven mitts. |
| Bread is hollow or holey inside. | Dough too wet, too much yeast, no salt. Measure all ingredients accurately. Decrease yeast or water slightly. Check salt measurement. |
| | Water too hot. |
| Underbaked or sticky, doughy bread. | Too much liquid; incorrect cycle chosen. Decrease liquid and measure ingredients carefully. Check cycle chosen for recipe. |
| Bread mashes down when slicing. | Bread is too hot. Allow to cool on a wire rack for 15–30 minutes before slicing. |
| Bread has a heavy, thick texture. | Too much flour, old flour. Try increasing water or decreasing flour. |
| | Not enough water. Whole-grain breads will have a heavier texture. |
| Base of bread pan has darkened or is spotted. | After washing in dishwasher. This is normal and will not affect the bread pan. |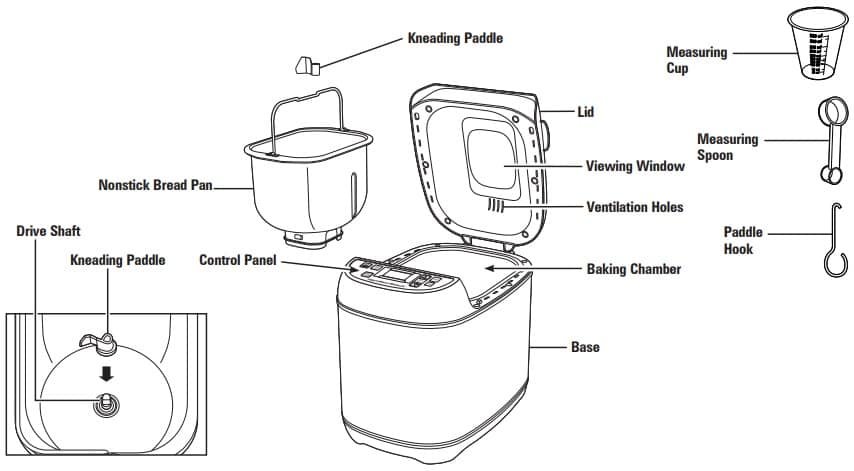 Hamilton Beach HomeBaker Breadmaker Manual PDF
Hamilton Beach Breadmaker Manual PDF
Hamilton Beach Artisan Breadmaker (29885) – Use and Care Manual PDF