Below is a list of some of the possible malfunctions. To help you out we have listed down some of the most common error codes for Hoover Robot Vacuum Cleaner. The below are common fault diagnosis and elimination methods. For other faults, please contact customer service. Do not forget to write to us the fault codes that you cannot find.
| Failure Code | Solution |
| --- | --- |
| Er01 | Debris trapped in the Edge Cleaning Brush. |
| Er02 | Debris trapped in the Floor Brushes. |
| Er04 | Left Drive Wheel motor overloaded. |
| Er05 | Right Drive Wheel motor overloaded. |
| Er06 | Both Drive Wheel motors overloaded. |
| Er07 | Left or Right Drive Wheel not making contact with the ground. |
| Er08 | Robocom battery is too hot. Switch off and leave Robocom to cool for 30mins. |
| Er09 | Dust Container is absent. Replace Dust Container. |
| Er10 | Check the battery connection. |
| Er12 | Debris in the left edge brush. |
Cleaning the filters
The Robocom is fitted with a pre-motor filter. To maintain optimum cleaning performance, regularly clean the pre-motor filter. The pre-motor filter should be cleaned every 5 dust container empties and should be washed.
Turn the Robocom off and remove from the charging station
Press the dust container release button and remove the dust container from the Robocom.
Pull the filter drawer tab to open the filter drawer.
Pull the side of the filter to pop it out of the bracket
Gently tap and wash the filter using hand warm water. Remove excess water from the filter with a dry cloth and leave to dry.
Reassemble once completely dry and refit to the Robocom. Do not use the Robocom without a pre-motor filter fitted.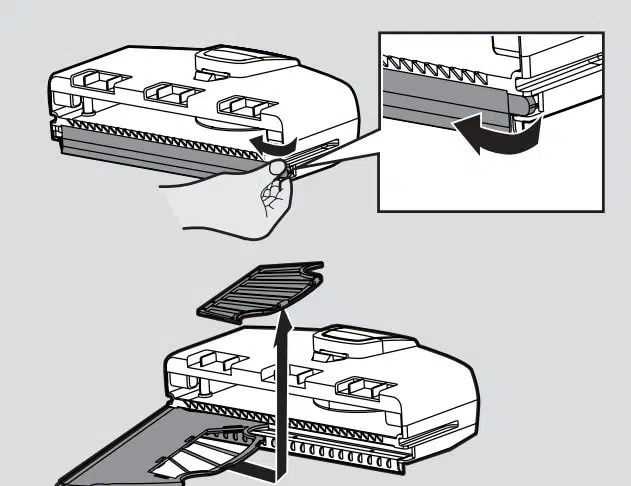 Regularly check and maintain the pre-motor filter by following the filter maintenance instructions, it is also recommended that you purchase new filters after every 3 filter washes. This will maintain your Robocom performance.
Cleaning the Floor Sensors
The floor detection sensors are located in the base of the Robocom. Clean the sensors each time the dust container is emptied. Frequent cleaning is recommended to ensure optimum cleaning performance and safe operation of your Robocom.
Turn Robocom off and remove from the charging station.
Turn the Robocom over.
Use a dry soft cloth or cotton swab to wipe the sensors.
Replacing the Robocom batteries
The Robocom is fitted with a rechargeable Lithium ion battery pack.
Turn the Robocom over and place on a level surface. Remove the screws from the battery cover and then remove it.
Remove the old battery pack and replace with the new battery pack, ensuring the polarity is correct.Replace the cover.
Recharge the Robocom, referring to 'main product recharge'.
Dispose of the batteries safely. Used batteries should be taken to a recycling station and not disposed of with household waste.
Troubleshooting
The following is a list of commonly encountered problems and solutions. If any of these problems persist contact your local Hoover representative.
| Trouble | Cause |
| --- | --- |
| The Robocom does not work | Check that the Robocom is switched on. |
| | Check that the dust container, filter and motor are clean. |
| | Check if the Robocom needs to be charged. |
| Cleaning power is weak | Empty dust container. |
| | Check and clean the filter and motor. |
| | Check and clean the Floor Brushes. |
| | Check and clean the sensors. |
| | Check and clean the drive wheels. |
| The Remote Control does not work | Check the batteries. |
| | Check the battery of the Robocom. |
| | Move the Remote Control closer to the Robocom. |
| | To check whether the indicator is illuminated. |
| The Robocom does not automatically charge. | Make sure there are no barriers between the Robocom and the charger station. |
| The Robocom is very noisy while cleaning | Clean the dust container and filter. |
| | Check the brushes and drive wheels for dirt and debris. |
| Robocom stops working/ cleans intermittently | Check the cleaning times set. |
| Robocom fails to detect stairs | Check and clean the sensors. |
| WIFI function doesn't work | Check if your Wi-Fi router is available. |
| | Check if the APP is correctly installed in your smartphone. |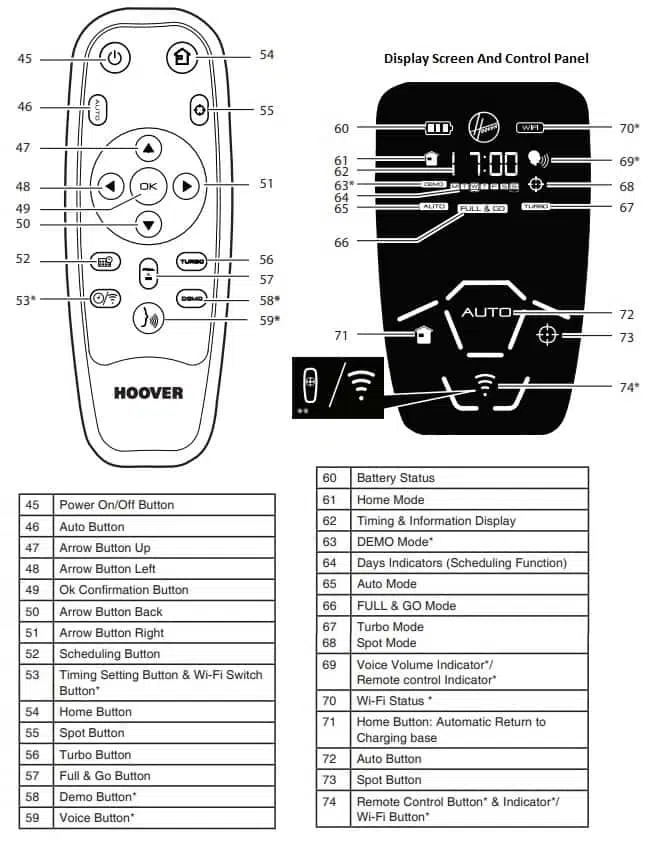 Hoover Robocom User Manual PDF
Latest posts by Dylan Joseph
(see all)