Failure Codes And What To Do In Case Of Failure;
| Error Codes | Meaning |
| --- | --- |
| F1 | Alarm is active against water overflow. Power off your machine and close the tap. Contact the service. |
| F2 | The waste water in the machine cannot be discharged. 1-Water discharge hose is clogged. 2-The filters of your machine might be clogged. 3-Power off-on your machine and activate the program cancellation command. 4-If the error continues, contact the service. |
| F3 | Error of continuous water input. Close the tap. |
| F5 | Inadequate water supply. 1-Make sure the water input tap is totally open and that there is no water cut. 2-Close the water input tap, separate the water input hose from the tap and clean the filter at the connection end of the hose. 3-Restart your machine, contact the service if the error resumes. |
| F6 | Faulty heater sensor. |
| F7 | Overheating error (temperature in the machine is too high) |
| F8 | Heater error. |
| F9 | Divisor position error. |
| FE | Faulty electronic card. |
| FF | Inadequate water supply. -Make sure the water input tap is totally open and that there is no water cut. -Close the water input tap, separate the water input hose from the tap and clean the filter at the connection end of the hose. -Restart your machine, contact the service if the error resumes. |
IFB Dishwasher Troubleshooting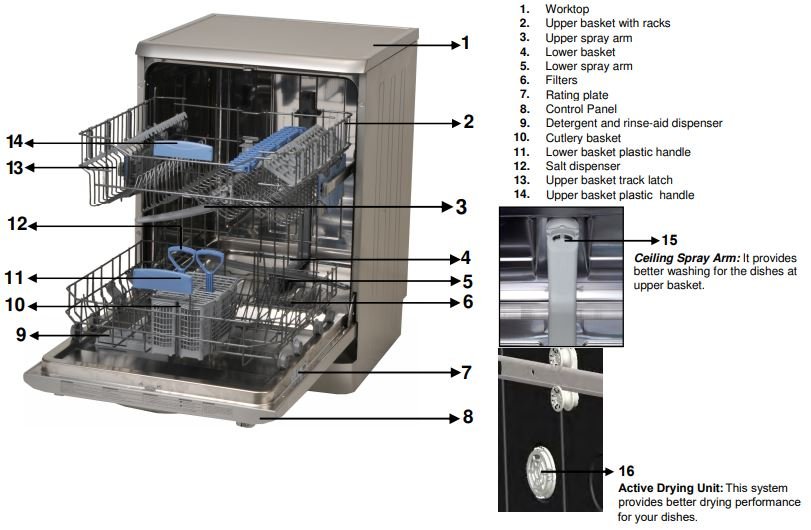 If one of program monitor lights is on and start/Pause light is on and off,
Your machine's door is open, shut the door.
If the programme won't start
Check if the plug is connected.
Check your indoor fuses.
Be sure that the water inlet tap is turned on.
Be sure that you have closed the machine door.
Be sure that you switched off the machine by pressing the Power On / Off button.
Be sure that the water inlet filter and the machine filters are not clogged
If the control lamps won't go out after a wash operation
The Power On/Off button is released yet.
If detergent residues are left in the detergent compartment
Detergent has been added when the detergent compartment was wet.
If water is left inside the machine at the end of the programme
The water drain hose is clogged or twisted.
The filters are clogged.
The programme is not finished yet.
If the machine stops during a wash operation
Power failure.
Water inlet failure.
Program can be on standby mode
If shaking and hitting noises are heard during a wash operation
Dishes placed incorrectly.
Spray arm hitting the dishes
If there are partial food wastes left on the dishes
Dishes placed incorrectly into the machine, sprayed water did not reach related places.
Basket overly loaded.
Dishes leaning against one another.
Very small amount of detergent added.
An unsuitable, rather weak wash programme selected.
Spray arm clogged with food wastes.
Filters clogged.
Filters incorrectly fitted.
Water drain pump clogged
If there are whitish stains on the dishes
A very small amount of detergent is being used.
Rinse aid dosage setting at a very low level.
No special salt is being used despite the high degree of water hardness.
Water softener system setting is at a very low level.
Salt compartment cap not closed well.
A detergent without phospate used; try one that contains phosphate.
If the dishes won't dry up
A programme without a dry operation selected.
Rinse aid dosage set too lo
Dishes unloaded too fast
If there are rust stains on the dishes
Stainless-steel quality of the dishes washed is insufficient.
High rate of salt in the wash water.
Salt compartment cap not closed well.
Too much salt spilt into the sides and into the machine while filling it with salt.
Unhealthy mains grounding.
IFB Dishwasher Washing, End, Start Pause Button Flashing
| Failure | Failure Description |
| --- | --- |
| Start Pause button flashing | Inadequate water supply. |
| End button flashing | Error of continuous water input. |
| Start and End button flashing | The waste water in the machine cannot be discharged. |
| Washing and Start button flashing | Intended water temperature could not be reached faulty heater and heater sensor. |
| Washing and End button flashing | Alarm is active against water overflow. |
| Washing, End, Start button flashing | Faulty electronic card. |
Download IFB NEPTUNE Instruction Manual