Insignia ice makers can display error codes to indicate specific issues or malfunctions. Here are some common Insignia ice maker error codes and their meanings. If an error code is displayed on the control panel, contact your place of purchase or Insignia customer service.
Most Common Codes
| Error Messages | Meaning |
| --- | --- |
| E1 | The ambient temperaturesensor is not working. Have your ice maker serviced by a qualifiedtechnician. |
| E2 | The water temperaturesensor is not working. |
| Add Water | The ice maker is out of water. Turn the ice maker off, add water to the Maximum water levelmark, then press the ON/OFF button to turn on the ice maker. |
| Ice Full | The ice basket is full. Remove the ice from the ice basket. |
Control Panel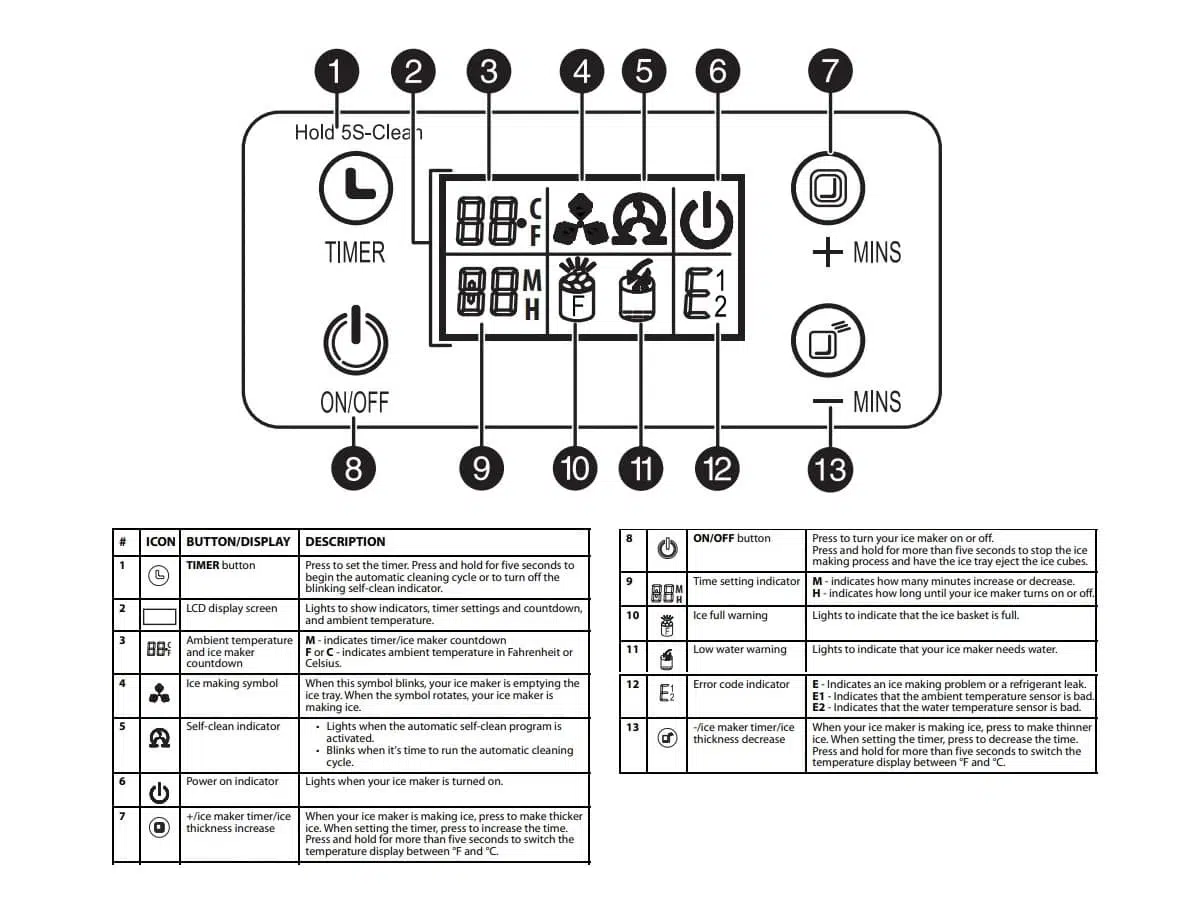 Cleaning
Clean your ice maker at least every week by running the cleaning cycle. Every three days is recommended. If you don't plan to use your ice maker for an extended period of time, drain the water from the water reservoir.
Draining the water from your ice maker
Make sure that your ice maker is plugged in.
Move your ice maker to the edge of the countertop, then place a large bowl under it or make sure the edge is above the sink.
Pull the drain plug from the bottom of your ice maker and let the water drain from the tank.
Replace the drain plug into the bottom of your ice maker. Your ice maker is ready to use.
Running the automatic self-cleaning program
Run the automatic self-cleaning program before using your ice maker for the first time. After that, we suggest running a cleaning cycle at least every week. When the running time on the compressor reaches 40 hours (approximately every three to seven days), the automatic self-clean icon blinks to remind you to clean your ice maker. Run the automatic self-clean program to turn off the blinking icon.
Fill the water reservoir with about .5 gal. (2 L) of water.
Plug in your ice maker, but do not press the power (ON/OFF) button.
With your ice maker still powered off, press and hold (for over five seconds) the (TIMER) button. The (clean) indicator turns on and the time counts down from 20 minutes. When the self-cleaning cycle is done, the indicator light turns off.
Drain the water from the tank.
Troubleshooting
Do not try to repair your ice maker yourself. Doing so invalidates the warranty. If you turn your ice maker off then turn it back on, the compressor takes three minutes to restart.
| Problem | Possible cause |
| --- | --- |
| The ice has a bad taste or there isan odor | Various. 1. Make a few loads of ice after unpacking anddiscard the ice 2. Clean your ice maker with lemon water 3. Use filtered water |
| The ice making cycle is normal, no ice is made | The room temperature or water temperature may be too high. The room temperature should be no higher than 86° F (30° C). The water temperature should be no higher than 77° F (25° C) and no lower than 50° F (10° C). |
| The ice cubes stick together | The ice cycle is too long for the room temperature. Stop your ice maker, and restart it when the ice blocks melt. Press the - button to shorten the ice making cycle. |
| My ice maker makes ice too slowly | The hot air outlet is blocked. Check the hot air outlet and remove any blockage. |
| There is no water in the water separator pipe | The holes in the separator pipe are blocked. Use a thin wire or paper clip to clean the holes in the water separator pipe. |
| The ice cubes are too thick and can't drop into the ice basket | The ice making cycle is too long. Press the - button to shorten the ice making cycle. |
| The ice cubes are too thin | The ambient temperature is too high. Move your ice maker to a cooler place. The temperature should be no higher than 86° F(30° C). The water temperature should be no higher than 77° F (25° C) and no lower than 50° F(10° C). |
| My ice maker is leaking water | The drain plug is loose or missing. Replace the drain plug into the drain line. |
| My ice maker is noisy | Your ice maker makes noise during the freezing cycle and when it is dumping ice. This is normal. |
| My ice maker will not stop | Ice full indicator board is broken. Have your ice maker serviced by a qualified technician. |
Manuals Pdf
Insignia 26 lb. Portable Ice Maker – NS-IMP26BK7 User Manual PDF
Insignia Ice Maker – NS-IMK20WH7 User Manual PDF
Latest posts by Dylan Joseph
(see all)