| Problem | Solution |
| --- | --- |
| E1 | Broken circuit of the thermal sensor |
| E2 | Short circuit of the thermal sensor |
| The AIR FRYER does not work | The appliance is not plugged in. You have not turned the Unit on, set the preparation time, or temperature. Plug power cord into wall socket. Press the Power On button. Select a Preset or select Time and Temperature. Press Power button again and cooking will begin. |
| | You have probably turned off the Unit. lf you pressed the Power button while the Unit is cooking it will trigger the "shut down" mode. Press the Power On button. Select a Preset or select Time and Temperature. Press Power button again and Cooking will begin. |
| Food not cooked | The Fry Basket is overloaded. Use smaller batches for more even frying. |
| | The temperature is set too low. Use the Temperature + button to raise the temperature and continue cooking. |
| Food is not fried evenly | Some foods need to be "shaken" during the cooking process. |
| Outer Basket won't slide into Unit properly | Fry Basket is overloaded. Do not fill the Fry Basket above the MAX level. |
| | Fry Basket is not placed in Outer Basket correctly. Gently push Fry Basket into Outer Basket until it "clicks". |
| White smoke coming from Unit | Too much oil being used. Foods heavy with oil will cause dripping in the Outer Basket. Oil in the Outer Basket will smoke having no effect on the Unit or the food. |
| | Outer Basket has grease residue from previous cooking. Clean Outer Basket after each use. |
| Fresh fries are not fried evenly | Wrong type of potato being used. Use fresh, firm potatoes. |
| | Potatoes not rinsed properly during preparation. Use cut sticks and pat dry to remove excess starch. |
| Fries are not crispy | Raw fries have too much water. Dry potato sticks properly before adding oil. Cut sticks smaller. Add a bit more oil. |
Cleaning
Clean the Power AirWave Fryer XL after each use. The Outer Basket and the Fry Basket are coated with a special non-stick surface. Never use abrasive cleaning materials or utensils on these surfaces.
Remove the power cord from the wall socket and be certain the appliance is thoroughly cooled before cleaning. Note: Separating the Outer Basket from the Fry Basket will allow them to cool quicker.
Wipe the outside of the appliance with a warm moist cloth and mild detergent.
Clean the Outer Basket and the Fry Basket with hot water, a mild detergent and a nonabrasive sponge. Note: The Outer Basket and Fry Basket are dishwasher-safe. Tip: Should Outer Basket and Fry Basket contain difficult to remove food particles, leave the Fry Basket and Outer Basket assembled, fill with hot soapy water and soak for 10 minutes.
Clean the inside of the appliance with hot water, a mild detergent and a nonabrasive sponge.
If necessary, remove unwanted food residue from the heating element with a cleaning brush.
Power AirFryer XL Parts and Accessories
Your Power AirFryer XL has been shipped with the components shown below. Check everything carefully before use. If any part is missing or damaged, do not use this product. Contact shipper using the customer service number located in the back of the owner's manual.
Fry Basket
Basket Release Button
Sliding Button Guard
Easy-Grip Handle
Baking Tray
Outer Basket
Assembled Fry Basket (1) and Outer Basket (5)
Food Divider Insert
Air Intake Vent
Digital Control Panel
Air Outlet Vent
Main Unit Housing
Tips
Foods that are smaller in size usually require a slightly shorter cooking time than larger foods.
Large quantities of food only require a longer cooking time than smaller quantities.
Shaking smaller-sized foods halfway through the cooking process ensures that all the pieces are fried evenly.
Adding a bit of vegetable oil to fresh potatoes is suggested for a crispier result. When adding oil, do so just before cooking and add only a small amount onto the potato.
Snacks normally cooked in an oven can also be cooked in the PowerXL Vortex Air Fryer Plus.
Use premade dough to prepare filled snacks quickly and easily. Premade dough also requires a shorter cooking time than homemade dough.
You can use the PowerXL Vortex Air Fryer Plus to reheat foods. Simply set the temperature and time to however warm you want your food.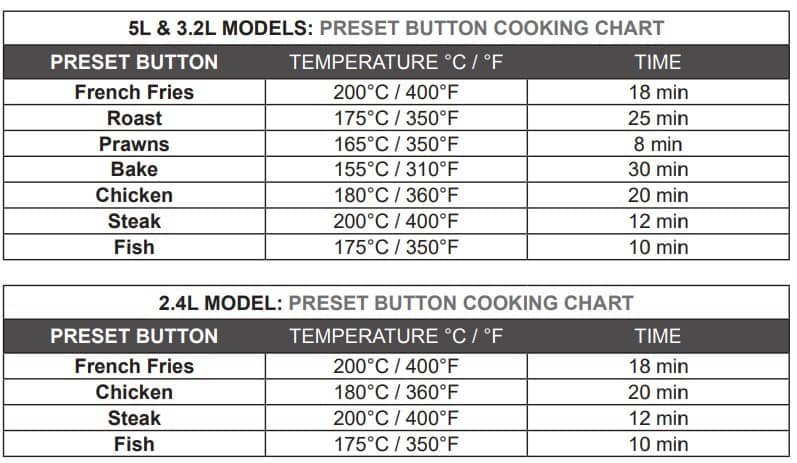 Power Air Fryer XL Owners Manual PDF for models HF-509TS, HF-959TS & HF-196TS
XL Air Fryer User Manual Model PS-DF449
Power XL Vortex Air Fryer Plus Owners Manual Model HF-8096LCD
Power Air Fryer Express Owners Manual Model AF-340E
Power Air Fryer XL Owners Manual