Sharp Corporation, once known as Hayakawa Metal Works, was founded back in 1912. This Japanese multinational corporation design manufactures and sells electronics all over the world – offering them the best Japanese technology you can imagine. Currently, the company is majorly owned by Foxconn Group and has headquarters in Sakai-Ku.
Sharp started with regular appliances and was focused on offering small additions that make a huge impact on your life. This way you get to enjoy energy-saving and cost-effective solutions that will last for years to come.
Dishwashers need to be a reliable source but can break down unexpectedly. Fortunately for you, you will see an error code being displayed on the screen and can easily look it up using the Sharp dishwasher error code list below. Once you know the problem you can plan a solution that works best for you.
Codes Table
| Error Codes | Solution |
| --- | --- |
| F5 | Inadequate water supply. |
| F3 | Error of continuous water input. |
| F2 | The waste water in the machine cannot be discharged. |
| F8 | Heater error |
| F1 | Alarm is active against water overflow |
| FE | Faulty electronic card |
| F7 | Overheating error (temperature in the machine is too high) |
| F9 | Divisor position error |
| F6 | Faulty heater sensor |
Control Panel Buttons Meaning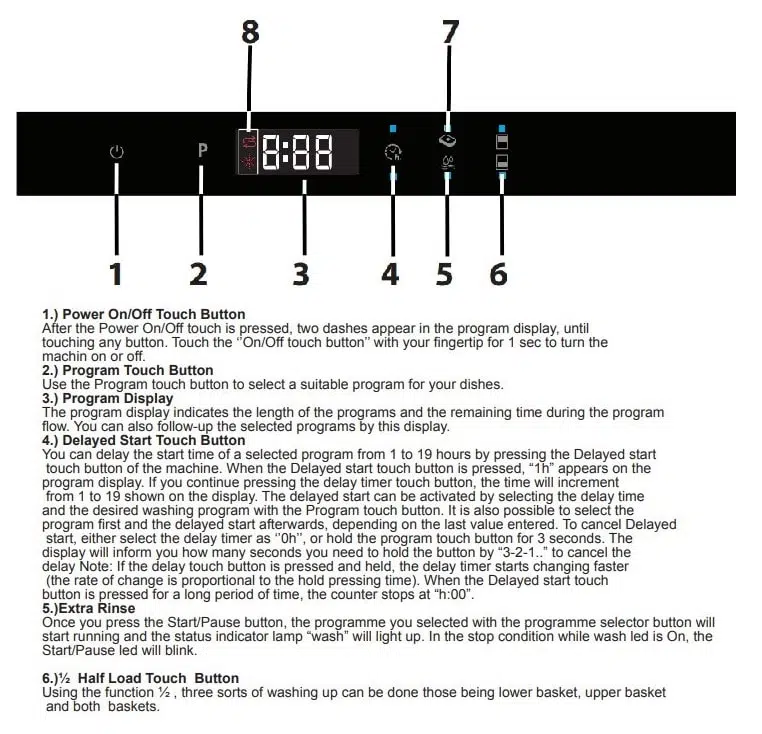 Troubleshooting
If one of the program monitor lights is on and start/pause light is on and off,
Your machine's door is open, shut the door.
If the programme won't start
Check if the plug is connected.
Check your indoor fuses.
Be sure that the water inlet tap is turned on.
Be sure that you have closed the machine door.
Be sure that you switched off the machine by pressing the Power On / Off button.
Be sure that the water inlet filter and the machine filters are not clogged.
If the lamps "Wash/Dry" and "End" keep flashing
The water overflow alarm is active
Turn off your tap and contact an authorised service.
If the control lamps won't go out after a wash operation
Check if the Power On/Off button is released.
If detergent residues are left in the detergent compartment
Detergent has been added when the detergent compartment was wet.
If water is left inside the machine at the end of the programme
The water drain hose is clogged or twisted.
The filters are clogged.
The programme is not finished yet.
If the machine stops during a wash operation
Power failure.
Water inlet failure.
Program can be on standby mode
If shaking and hitting noises are heard during a wash operation
Dishes placed incorrectly.
Spray arm hitting the dishes.
If there are partial food wastes left on the dishes
Dishes placed incorrectly into the machine, sprayed water did not reach related places.
Basket overly loaded.
Dishes leaning against one another.
Small amount of detergent added.
An unsuitable, rather weak wash programme selected.
Spray arm clogged with food wastes.
Filters clogged.
Filters incorrectly fitted.
Water drain pump clogged.
If there are whitish stains on the dishes
insufficient detergent is being used
Rinse aid dosage setting at a very low level.
No special salt is being used despite the high degree of water hardness.
Water softener system setting is at a very low level.
Salt compartment cap not closed well.
Won't dry no need for dry up
A programme without a dry operation selected.
Rinse aid dosage set too low
Dishes unloaded too fast.
If there are rust stains on the dishes
Stainless-steel quality of the dishes washed is insufficient.
High rate of salt in the wash water.
Salt compartment cap not closed well.
Too much salt spilt into the sides and into the machine while filling it with salt.
Unhealthy mains grounding.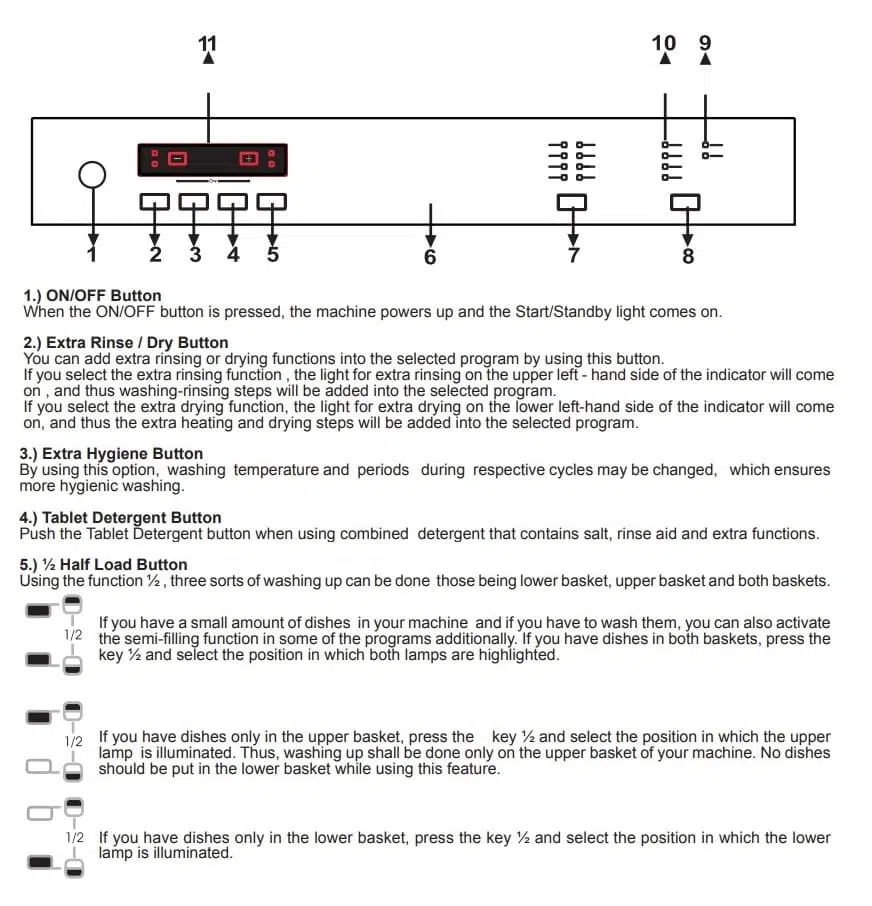 Explanation Of Product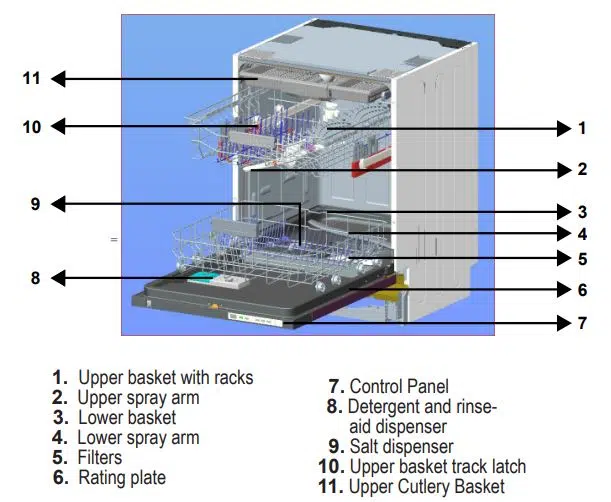 Manual Pdf
https://finderrorcode.com/category/dishwasher
Latest posts by Dylan Joseph
(see all)