Amana Corporation is a household appliance brand that was founded in 1934 by George Foerstner. Today, a billion-dollar company was once a small corporation striving to make a name for itself. The electrical Equipment Co. is located in Middle Amana, Iowa, and is generally known for its walk-in coolers. Over the passage of years, the company has changed a few hands, where it went from Amana corporation to Amana Refrigerator, Inc. and is now owned by the Whirlpool corporation.
Today the company offers a wide range of appliances from refrigerators, freezers, dishwashers, microwaves, ovens, air conditioners, and other home and commercial appliances. Offering customers a wide range of selection that matches their requirements. With such a wide range one can easily find an appliance that is ideal for their space.
Amana might be a high-ranking company, but from time to time customers have complained about system errors. Fortunately, most of these errors can be fixed on your own. So rather than ignoring the error codes, your appliance is showing its time to note down the Amana dishwasher error code and get to the bottom of the problem. To help you out we have listed down the most common error codes of Amana dishwashers.
Most Common Codes
| Codes | Cause |
| --- | --- |
| F 01 | Anti-flooding overflow |
| F 02 | Water fill solenoid valve failure |
| F 03 | Water drain failure/ timeout |
| F 04 | Thermostat fault |
| F 06 | Water fill timeout |
| F 07 | Water turbine damaged |
| F 08 | Temperature timeout fault |
| F 09 | Software error |
| F 10 | Heating element fault |
| F 11 | Wash pump failure |
| F 12 | Main board & Display communication error |
| F 13 | Main board fault |
| F 15 | Virtual sensor error |
| FA | The optical water indicator is detecting high levels of water turbidity |
Control Panel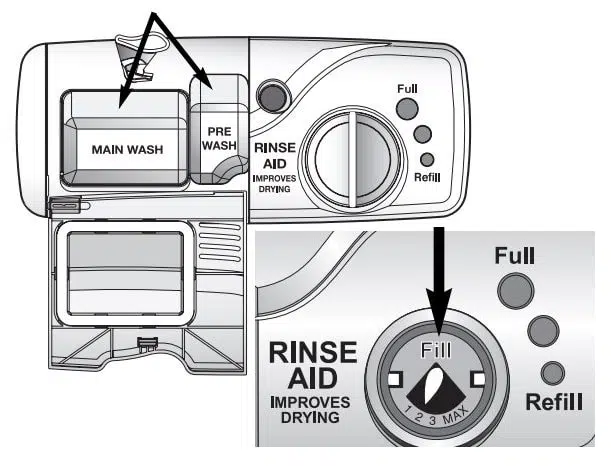 Troubleshooting
Check These Points to Help Save You Time and Money.
| Problem | Solution |
| --- | --- |
| Dishwasher will not fill | Press the START/Cancel pad to start the dishwasher. |
| | Be sure door is latched securely. |
| | Be sure the water is turned on. |
| | Check that the pad is properly selected for a cycle. |
| | Check your home's circuit breaker or fuse box. |
| | Check inlet hose for a kink. |
| | Check water valve inlet for sediment and clean if necessary. |
| Dishwasher will not drain/ water in tub bottom | If hooked up to a food waste disposer, be sure the knock-out is removed from the disposer inlet. |
| | Check for food obstruction in the drain or disposer. |
| | Check drain hose for a kink. |
| | Check your home's circuit breaker or fuse box. |
| | Check that the cycle is completed. |
| Dishwasher adds water at end of cycle | This is normal. The sensor (select models) in the pump must stay submerged so a short fill of water is added after the cycle's last drain. |
| Detergent cup is not empty | Check that the cycle is completed. |
| | Be sure dispenser is not blocked. |
| | Use fresh detergent stored in a cool, dry place. |
| Dishwasher seems noisy | A water valve hiss during fill is normal. |
| | Water circulation sounds are normal. |
| | A thumping sound may be a wash arm bumping an item that is extending beyond the racks. Readjust load to avoid obstructing wash arm. |
| | Chopping or grinding sounds may be heard as the internal chopper blade chops hard items like fruit seeds, nuts, etc. |
| | Humming during the drain is normal. |
| | A snap noise is the detergent cup lid hitting the door liner when the dishwasher door is opened at the end of the cycle. This is normal. |
| | Proper installation affects the noise level. |
| Cycle takes too long | Hi Temp Wash has been selected and the cycle is extended to heat water. |
| | Check to see that the incoming water temperature is 120° F (49° C). |
| Dishwasher has an odor | Run dishes being held in the dishwasher through a Rinse Only cycle. |
| | Many dishwashers have a "new" smell when first installed. This will dissipate with use. |
| | Dishwasher may not be draining properly. |
| | For a strong odor, place baking soda in both sides of the detergent cup. Select Light/Quick Wash cycle and allow the water to circulate for about 10 minutes. |
| Dishwasher leaks | Check that the dishwasher is level. |
| | Suds can cause the dishwasher to overflow. Measure the detergent carefully and use only detergents designed for use in a dishwasher. Less detergent is needed in soft water. Try another brand of detergent if sudsing continues. |
| | Follow directions closely on how to add a forgotten item. |
| | To avoid rinse aid leaking from the dispenser, be sure the lid is securely attached. |
| Indicator lights flashing | The countdown display (select models) flashes after a cycle is selected until the START/Cancel pad is pressed. |
| | The countdown display (select models) and the delay indicator flash after a delay is selected until the START/Cancel pad is pressed. |
| | All active display indicators flash if the door is opened during a running cycle or delay. |
| | The currently selected cycle flashes if an attempt is made to change the cycle after cycle "lock-in" |
Care and Cleaning
The dishwasher interior is normally self-cleaning. Periodically check the bottom of the dishwasher tub to see if any large particles remain.
Wipe the edge of the inner door liner to remove any food soil splashes which occurred during loading.
When cleaning stainless steel, always wipe with the grain. Never use products containing chlorine bleach or citric acid.
The color from some tomato-based food soils may occasionally adhere to various components of the dishwasher interior, causing temporary discoloration.
Remove excess tomato-based food soils from dishes, before loading.
Run the Heavy Wash cycle when washing loads containing tomato-based food soils.
Use a dishwasher detergent that contains chlorine to better fight staining.
How do I reset my Amana dishwasher?
Disconnect it from the power source for one minute. If it's plugged into an outlet, all you have to do is unplug the unit for one minute and then plug it back in. If it's hard wired to the power supply, turn the breaker off at the household electrical panel for one minute and then turn the breaker back on.
Manual Pdf
Latest posts by Dylan Joseph
(see all)