Amica dishwasher error codes are vital pieces of information used to identify issues with this appliance and assist users in troubleshooting. Whenever any problem affecting the dishwasher's functionality arises, these codes can help technicians or users pinpoint the root cause. In this article, we will explore the meanings of Amica dishwasher error codes and how you can diagnose common problems. We will also discuss the kinds of maintenance or repairs these codes might necessitate.
Codes Table
| Error Codes | Solution |
| --- | --- |
| E1 | Water supply timeout. • Closed water valve. • Clogged water pipe • Water pressure too low • If error persists contact customer service. |
| E4 | Overflow. • Water level too high • If error persists contact customer service. |
| The Rapid light flicker fleetly | Longer inlet time. Faucets is not opened, or water intake is restricted,or water pressure is too low. |
| The Glass light flicker fleetly | Overflow. Some element of dishwasher leaks. |
Flashing Lights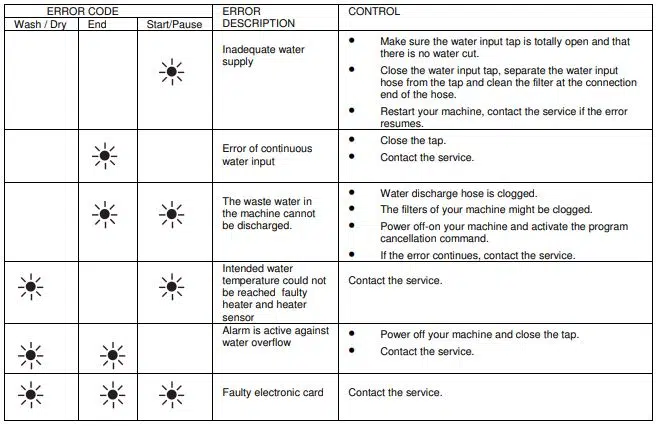 If one of program monitor lights is on and start/Pause light is on and off,
Your machine's door is open, shut the door.
If the programme won't start
Check if the plug is connected.
Check your indoor fuses.
Be sure that the water inlet tap is turned on.
Be sure that you have closed the machine door.
Be sure that you switched off the machine by pressing the Power On / Off button.
Be sure that the water inlet filter and the machine filters are not clogged.
If the lamps "Wash/Dry" and "End" keep flashing
Water overflow alarm is active
Turn off your tap and contact an authorised service.
If the control lamps won't go out after a wash operation
The Power On/Off button is released yet.
If detergent residues are left in the detergent compartment
Detergent has been added when the detergent compartment was wet.
If water is left inside the machine at the end of the programme
The water drain hose is clogged or twisted.
The filters are clogged.
The programme is not finished yet.
If the machine stops during a wash operation
Power failure.
Water inlet failure.
Program can be on standby mode.
Troubleshooting
| Problem | Possible Causes |
| --- | --- |
| Dishwasher doesn't start | Fuse blown, or the circuit breaker acted |
| | Power supply is not turned on |
| | Water pressure is low |
| | Door of dishwasher not properly closed. |
| Water not pumped form dishwasher | Kink in drain hose |
| | Filter clogged |
| | Kitchen sink clogged |
| Suds in the tub | Improper detergent |
| | Spilled rinse-aid |
| Stained tub interior | Detergent with colourant was used. Make sure that the detergent is the one without colourant. |
| White film on inside surface | Hard water minerals. To clean the interior, use a damp sponge with dishwasher detergent and wear rubber gloves. Never use any other cleaner than dishwasher detergent for the risk of foaming or suds. |
| There are rust stains on cutlery | The affected items are not corrosion resistant. |
| | A programme was not run after dishwasher salt was added. Traces of salt have gotten into the wash cycle. |
| | The lid of the softer is loose. Check the lip .Ensure the fix is fine. |
| Knocking noise inthe wash cabinet | A sp ay arm is knocking against an item in a basket. Interrupt the programme, and rearrange the items which are obstructing the sp ay arm. |
| Rattling noise in the wash cabinet | Items of crockery are loose in the wash cabinet. Interrupt the programme, and rearrange the items of crockery. |
| Knocking noise in the water pipes | This may be caused by on-site installation or the cross-section of the piping. This has no influence on the dishwasher function. if in doubt, contact a suitably qualified plumber. |
Control Panel and Parts
Manual Pdf
Latest posts by Dylan Joseph
(see all)