| Error Codes | Causes | Solutions |
| --- | --- | --- |
| Err1 | Door is not properly shut | Shut the door properly |
| Err2 | Drainage error, water not emptied within 6 minutes | Clean the filter and check the drain hose for blockage. If error still exists, please contact the maintenance personnel |
| Err3 | Temperature sensor not properly connected or damaged. | Contact the maintenance personnel. |
| Err4 | Heater error (Appears at the end of a cycle) | Reduce load and then start washing again. If problem still exists, please contact the maintenance personnel |
Error Codes
Causes
Solutions
Err5
Water level not met in 8 minutes


The height of the drain hose is below 80 cm


The drain hose is in water
Make sure that tap is turned on, and water pressure is normal. If problem still exists, please contact the maintenance personnel


Install drain hose within 80-100 cm of height


Make sure the drain hose is not in water
Err6
Motor error
Contact the maintenance personnel
Err7
Motor error
Contact the maintenance personnel
Err8
Water exceeds protective level
Contact the maintenance personnel
End
End of wash cycle 
1:25
The remaining time is 1 hour 25 minutes
19:25
Status information:Preset time for delayed operation
UNb
After the last rinsing cycle finishes,spinning fails completely due to unbalance of the laundry
Power-off memory function: In case of abrupt power failure or the need to cut off the power during a program cycle, the present settings will be saved and the preset operation will resume when the power is on again.
Note: During the spin process, if too much foam is inspected, in order to protect the motor, the washing machine will eliminate the foam automatically; the motor will stop and the drain pump will drain the water continuously for 90 seconds. If it happens more than 3 times, the motor will stop until the end of cycle without spinning.
Troubleshooting
The following circumstances do not mean there is a fault with the appliance. Contact the Customer Care Team when you have confirmed the problem after following the instructions below.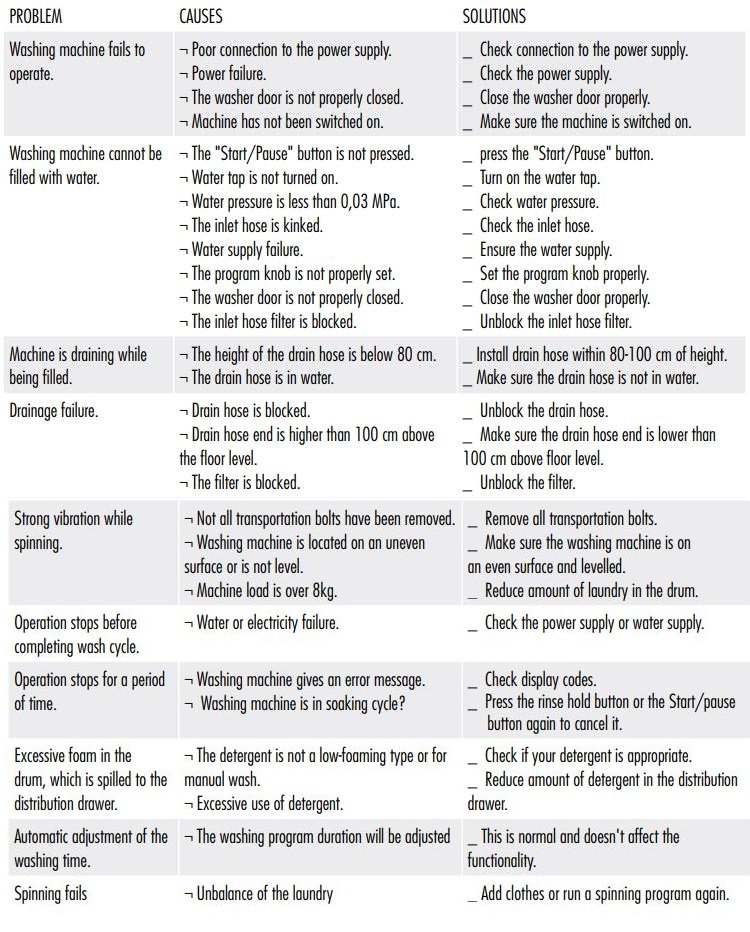 Tips For Saving Energy
Collect clothes for one full wash load.
Avoid overloading the washing machine.
Prewash only heavily soiled clothes.
Reduce the amount of detergent or choose standard or delicate wash programs for slightly soiled clothes.
Choose the correct washing temperature. Most modern detergents can wash with good results in temperatures lower than 60°C. Only use higher temperatures for heavily soiled laundry.
Follow the usage recommendation on the detergent package to avoid using too much detergent.
Cleaning & Care
Cleaning the filter
Caution: Place a container under the drain pump filter, to collect any excess water that may come out of the drain pump when the filter is removed.
Clean the filter once a month:
Open the bottom cover (Fig. 2).
Remove the filter by turning counterclockwise (Fig. 2b).
Flush the filter clean with running water (Fig. 2c).
Replace the filter by turning clockwise and remount the cover (Fig. 2d).
Caution: The filter must be in place during operation, ensure it is in place after cleaning to avoid leakage.