Fully Automatic Double Pump. Type: Wp5C/5D
| Error Codes | Solution |
| --- | --- |
| E1 | The water supply is turned off. Turn the water supply on. |
| | Defective water fill valve. Replace the water fill valve. |
| | Low water pressure. Minimum water pressure of 20 PSI. |
| | Obstructed water fills valve or hose. Disassemble and clean the water fill valve and hose. |
| | Damaged or defective wiring. Repair the wiring. |
| | Defective pressure switch for high water level safeguard. Replace the pressure switch. |
| | Defective flowmeter. Replace the flowmeter. |
| | Heavy water usage elsewhere in home. Use dishwasher when water usage is at a minimum. |
| | Defective PCB assembly. Replace the PCB assembly. |
| E2 | Damaged or defective drain pump. Replace the drain pump. |
| | Replace the drain pump Drain hose was obstructed or snapped. Put the hose in the right way. |
| | Defective micro-switch. Replace the micro-switch. |
| | Too dirty the inner of the bobber base. Replace or clear the bobber base. |
| | Damaged or defective wiring. Repair the wiring. |
| | Defective the electric control. Replace the electric control. |
| E3 | The voltage too low. Minimum voltage of 198V. Replace the thermostat 2 or the fuse. |
| | Damaged or defective wiring. Repair the wiring. |
| | Damaged thermostat 1. Replace the thermostat 1. |
| | Damaged the heating element. Replace the heating element. |
| | Defective the electric controller. Replace the electric controller. |
| E4 | Defective micro-switch. Replace the micro-switch. |
| | Damaged or defective wiring. Repair the wiring. |
| | Defective the electric control. Replace the electric control. |
| E5 | Damaged water valve. Replace the valve. |
| E6-E7 | Check the NTC or PCB. If the NTC thermistor is ok, but the alarm still be set off, the PCB might have defect. |
| | Defective micro-switch. Replace the micro-switch. |
| | Defective ortoo dirty the inner of the bobber base. Replace or clear the bobber base. |
| | Damaged or defective wiring. Repair the wiring. |
| | Defective the electric control. Replace the electric control. |
| Salt leakage (for equipped with softener) | The cover of the softener be loosed. Tighten the cover. |
| | The o-ring of the cover be inversed. Replace the cover. |
| Not operate after push start key | Door was not closed. Close door. |
| | Damaged or defective door switch. Replace door swich. |
| | Damaged or defective door lock. Replace door lock. |
| | Damaged or defective wiring. Repair wiring. |
| | Defective electric control. Replace electric control. |
| | The control interference to panel. Repair the panel or control. |
| Fillwater not stop even no power. | Defective water fill valve. Replace water fill valve. |
| | Debris buildup under diaphragm in the water fill valve. Clean out debris or replace water fill valve. |
| Fill water not stop, but stop if no power | Defective electric control. Replace electric control. |
| Too less fill water | Low water pressure. Minimum water pressure of 0.03Mpa |
| | The pipe was snapped. Put the pipe in the right way |
| | The sump or the filter was obstructed. Clearthe sump and filter. |
| | Defective micro-switch. Replace micro-switch. |
| | Dishwasher not level. Level the dishwasher. |
| Dishwasher runs with door open | Damaged or defective door switch. Replace door swich. |
| | Damaged or defective door lock. Replace door lock. |
| | Damaged or defective wiring. Repair wiring. |
| | Defective electric control. Replace electric control. |
| Motor hums but not start or run. | Defective motor bearings. Replace motor. |
| | Defective motor capacitor. Replace motor capacitor. |
| | Damaged or defective wiring Repair wiring. |
| | Improper motorvoltage. Replace motor. |
| Motor trips out on internal thermal overload protector | Improper motorvoltage. Replace motor. |
| | Motorshaft binding. Replace motor. |
| | Defective motor capacitor. Replace motor capacitor. |
| | Motorwindings shorted. Replace motor. |
| The fuse for the heating element break | Water siphons out. See water siphons out. |
| | The sump or the filter was obstructed. Clearthe sump and filter |
| | Soap suds leak from dishwasher. Refer to owners manual |
| | Too less fill water. See too |es fill water |
| | Defective thermostat. Replace thermostat |
| | Damaged or defective wiring. Repair wiring |
| | Defective micro-switch. Replace the micro-switch |
| | Defective ortoo dirty the inner of the bobber base. Replace or clear the bobber base |
| | Defective electric control. Replace electric control |
| Water siphons out | Drain hose loop too low. Move drain hose to proper height. |
| | Drain hose connected to a floor drain not properly vented. Install a vent air gap at countertop. |
| Etching on glass glassware. | Soft water condition (Natural or artificial). |
| | Have a sample of water analyzed by the local water department. |
| Spotting or filming on glasses | Detergent allowed to stand too long in the dispenser or excessive amounts of detergent are being used. Instruct the customer on proper use of dishwasher detergent. |
| Noisy pump assembly. | Debris in bottom of tub sump area. Clean out the sump area. |
| | Pump parts were not properly installed. Inspect the pump and correct and installation errors. |
| | Impellers are not properly shimmed or are rubbing. Use the shim guage furnished in the impeller seal kit. When the seal is properly shimmed the impellers will be in the correct operating position. |
| Poor clearing | The sump or the filter was obstructed. Clearthe sump and filter. |
| | The filter is not in position. Put filter and micro filter in position. |
| | The filter was distortioned. Repair or replace filter. |
| | Dishes or knife/fork or something else stifled spray arm. Rotating the spray before start. |
| | Defective spray arm. Clear or replace the spray arm |
| | Too few of the inlet water. Check as the ERROR 2 |
| | Defective pump. Replace the pump. |
| | No salt in the softener. Add salt to the softener |
| Poor drying | Defective detergent/rinse module. Replace the detergent/rinse |
| | The temperature too low during rinse wash. Replace the NTC thermistor. Replace the electric control. |
| Washing but not stop | Defective electric control. Replace electric control. |
Note: in the narration of this manual, the number in brackets behind the part stands for the serial number of the part in the explosion diagram. The actual configuration may be different.
When some malfunctions occur, the appliance will display error codes to warn you:
E1: Longer inlet time. Faucet is not opened, or water intake is restricted, or water pressure is too low.
E3: Not reaching required temperature. Malfunction of heating element.
E4: Overflow. Some element of dishwasher leaks.
Maintenance and Cleaning
Filtering System
The filter prevents larger remnants of food or other objects from getting inside the pump. The residues may block the filter. In this case they must be removed.
Filter Assembly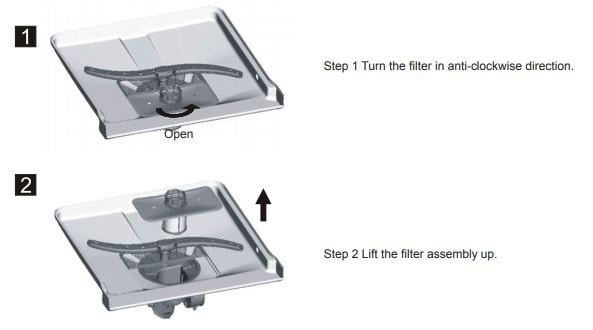 The filter efficiently removes food particles from the wash water, allowing it to be recycled during the cycle. For best performance and results, the filter must be cleaned regularly. For this reason, it is a good idea to remove the larger food particles trapped in the filter after each washing cycle by rinsing the semicircular filter and cup under running water. To remove the filter device, pull the cup handle in a upward direction.
How to Keep Your Dishwasher in Shape
After Every Wash
Removing the Plug
No Solvents or Abrasive Cleaning
When Not in Use for a Long Time
Moving the Appliance
Seals