Smeg refrigerators, essential appliances in modern homes, can experience technical malfunctions, causing users to be dissatisfied with their performance. To effectively address these issues, Smeg refrigerator users must understand the error codes provided by the devices. This guide concentrates on Smeg refrigerator error codes, offering users a comprehensive understanding of how to recognize and troubleshoot common refrigerator problems.
Codes List
| Error Codes | Solutions |
| --- | --- |
| Sr | Failure warnings. Appears when one or more of the refrigerator parts fail or there is a problem in the cooling system. |
| LF | Freezer compartment is not cold enough. This warning appears if there has been a power failure for a long period and when the refrigerator is operated for the first time. 1- If your frozen food is thawed, consume them as soon as possible and do not freeze them again since there is a risk of putrefaction. 2- Temporarily increase the freezer temperature setting to the desired level or switch the appliance to fast freezing mode. |
| LP | Low voltage. Refrigerator switches to the standby mode when the voltage supply falls below 170 Volts. This feature prevents the compressor from getting damaged due to low voltage. Refrigerator will start operating automatically when the voltage restores to the required level. |
Control Panel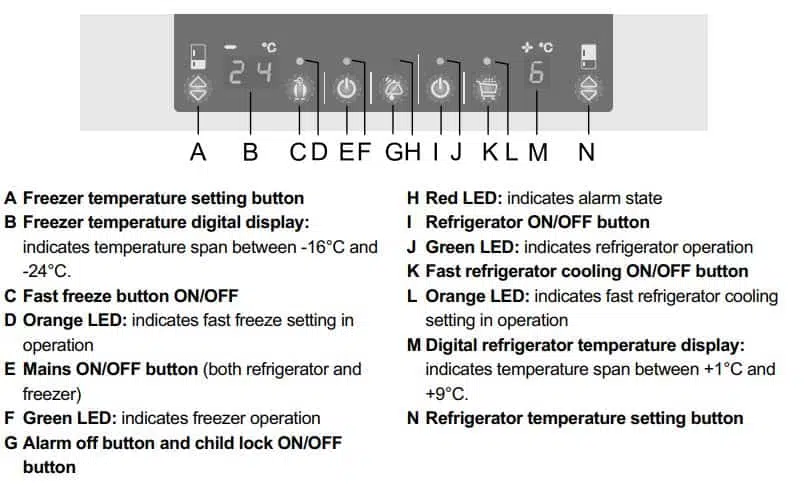 Troubleshooting
This list includes frequent complaints that are not arising from defective workmanship or material usage. Some of the features described here may not exist in your product.
| Trouble | Cause |
| --- | --- |
| The refrigerator does not operate. | Is the refrigerator properly plugged in? Insert the plug to the wall socket. |
| | Is the fuse of the socket which your refrigerator is connected to or the main fuse blown out? Check the fuse. |
| Condensation on the side wall of the fridge compartment (MULTIZONE, COOL CONTROL and FLEXI ZONE). | Very cold ambient conditions. Frequent opening and closing of the door. Highly humid ambient conditions. Storage of food containing liquid in open containers. Leaving the door ajar. Switching the thermostat to a colder degree. |
| | Decreasing the time the door left open or using it less frequently. |
| | Covering the food stored in open containers with a suitable material. |
| | Wipe the condensation using a dry cloth and check if it persists. |
| Compressor is not running | Protective thermic of the compressor will blow out during sudden power failures or plug-out plug-ins as the refrigerant pressure in the cooling system of the refrigerator has not been balanced yet. Your refrigerator will start running approximately after 6 minutes. Please call the service if the refrigerator does not startup at the end of this period. |
| | The fridge is in defrost cycle. This is normal for a full-automatically defrosting refrigerator. Defrosting cycle occurs periodically. |
| | Your refrigerator is not plugged into the socket. Make sure that the plug is properly fit into the socket. |
| | Are the temperature adjustments correctly made? |
| | Power might be cut off. |
| The fridge is running frequently or for a long time. | Your new product may be wider than the previous one. This is quite normal. Large refrigerators operate for a longer period of time. |
| | The ambient room temperature may be high. This is quite normal. |
| | The refrigerator might have been plugged in recently or might have been loaded with food. Cooling down of the refrigerator completely may last for a couple of hours longer. |
| | Large amounts of hot food might have been put in the refrigerator recently. Hot food causes longer running of the refrigerator until they reach the safe storage temperature. |
| | Doors might have been opened frequently or left ajar for a long time. The warm air that has entered into the refrigerator causes the refrigerator to run for longer periods. Open the doors less frequently. |
| | Freezer or fridge compartment door might have been left ajar. Check if the doors are tightly closed. |
| | The refrigerator is adjusted to a very low temperature. Adjust the refrigerator temperature to a warmer degree and wait until the temperature is achieved. |
| | Door seal of the fridge or freezer may be soiled, worn out, broken or not properly seated. Clean or replace the seal. Damaged/broken seal causes the refrigerator to run for a longer period of time in order to maintain the current temperature. |
| Freezer temperature is very low while the fridge temperature is sufficient. | The freezer temperature is adjusted to a very low temperature. Adjust the freezer temperature to a warmer degree and check. |
| Fridge temperature is very low while the freezer temperature is sufficient. | The fridge temperature might have been adjusted to a very low temperature. Adjust the fridge temperature to a warmer degree and check. |
| Food kept in the fridge compartment drawers are freezing. | The fridge temperature might have been adjusted to a very low temperature. Adjust the fridge temperature to a warmer degree and check. |
| Temperature in the fridge or freezer is very high. | The fridge temperature might have been adjusted to a very high degree. Fridge adjustment has an effect on the temperature of the freezer. Change the temperature of the fridge or freezer until the fridge or freezer temperature reaches to a sufficient level. |
| | Doors might have been opened frequently or left ajar for a long time; open them less frequently |
| | Door might have been left ajar; close the door completely. |
| | Large amount of hot food might have been put in the refrigerator recently. Wait until the fridge or freezer reaches the desired temperature. |
| | The refrigerator might have been plugged in recently. Cooling down of the refrigerator completely takes time. |
| The operation noise increases when the refrigerator is running. | The operating performance of the refrigerator may change due to the changes in the ambient temperature. It is normal and not a fault. |
| Vibrations or noise. | The floor is not even or it is weak. The refrigerator rocks when moved slowly. Make sure that the floor is strong enough to carry the refrigerator, and level. |
| | The noise may be caused by the items put onto the refrigerator. Items on top of the refrigerator should be removed. |
| There are noises coming from the refrigerator like liquid spilling or spraying. | Liquid and gas flows happen in accordance with the operating principles of your refrigerator. It is normal and not a fault. |
| There is a noise like wind blowing. | Fans are used in order to cool the refrigerator. It is normal and not a fault. |
| Condensation on the inner walls of refrigerator. | Hot and humid weather increases icing and condensation. It is normal and not a fault. |
| | Doors might have been left ajar; make sure that the doors are closed fully. |
| | Doors might have been opened frequently or left ajar for a long time; open them less frequently. |
| Humidity occurs on the outside of the refrigerator or between the doors. | There might be humidity in the air; this is quite normal in humid weather. When the humidity is less, condensation will disappear |
| Bad odour inside the refrigerator. | Inside of the refrigerator must be cleaned. Clean the inside of the refrigerator with a sponge, lukewarm water or carbonated water. |
| | Some containers or package materials might cause the smell. Use a different container or different brand packaging material. |
| The door is not closing. | Food packages may prevent the door's closing. Replace the packages that are obstructing the door. |
| | The refrigerator is not completely upright on the floor and rocking when slightly moved. Adjust the elevation screws. |
| | The floor is not level or strong. Make sure that the floor is level and capable to carry the refrigerator. |
| Crispers are stuck. | The food might be touching the ceiling of the drawer. Rearrange food in the drawer |
Parts Meaning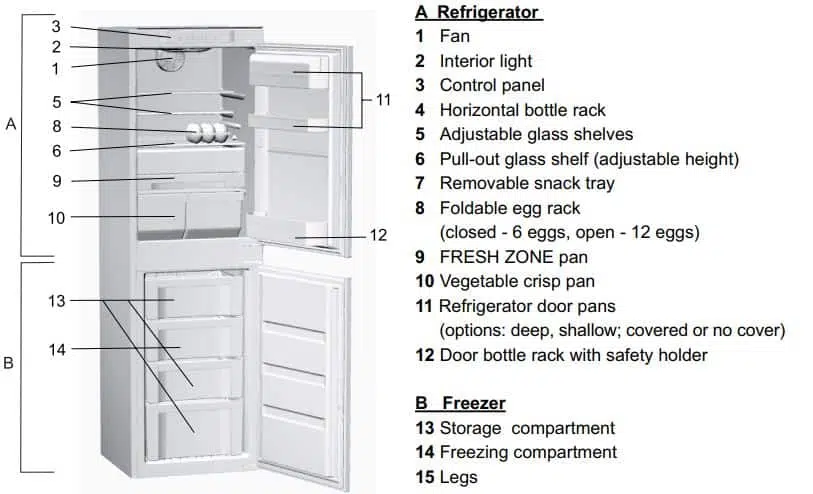 Manual Pdf
Latest posts by Dylan Joseph
(see all)