If the washing machine cannot work normally, a alarm code will appear on the display. Please carry out the following checks.
| Error Codes | Problem |
| --- | --- |
| E10 | Inlet water overtime. Open the water tap, to check if the inlet hose is squashed or kinked, check if the filter in the inlet valve is blocked or not; check if the water pressure is too low. |
| E21 | Overtime of the drainage. Check if the drain pump is blocked. |
| E30 | The door has not been closed. Check if the door of the washing machine is closed check if the clothes are trapped by the door seal. |
| E50 | Voltage is too high. Check if the voltage is too high if it is this case, a constant voltage device is needed. |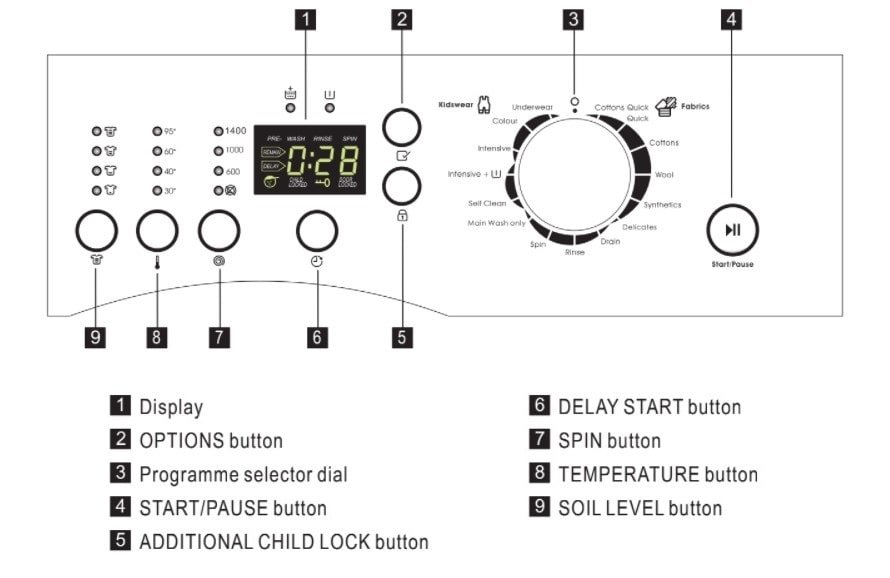 Cleaning the pump
According to the soil level within the cycles and the frequency of the cycles, you have to inspect and clean the filter regularly.
The pump should be inspected if:
the machine does not empty and/or spin;
the machine makes an unusual noise during draining due to objects such as safety pins, coins etc. blocking the pump.
Proceed as follows:
disconnect the appliance;
if necessary wait until the water has cooled down.
Open the pump door. Place a container close to the pump to collect any spillage.
When no more water comes out, unscrew the pump cover and remove it. Always keep a rag nearby to dry up spillage of water when removing the cover.
Remove any objects from the pump impeller by rotating it.
Screw the pump cover fully in.
Close the pump door.
When the appliance is in use and depending on the programme selected there can be hot water in the pump. Never remove the pump cover during a wash cycle, always wait until the appliance has finished the cycle, and is empty. When replacing the cover, ensure it is securely retightened so as to stop leaks and young children being able to remove it.
Zanussi Washing Machine Troubleshooting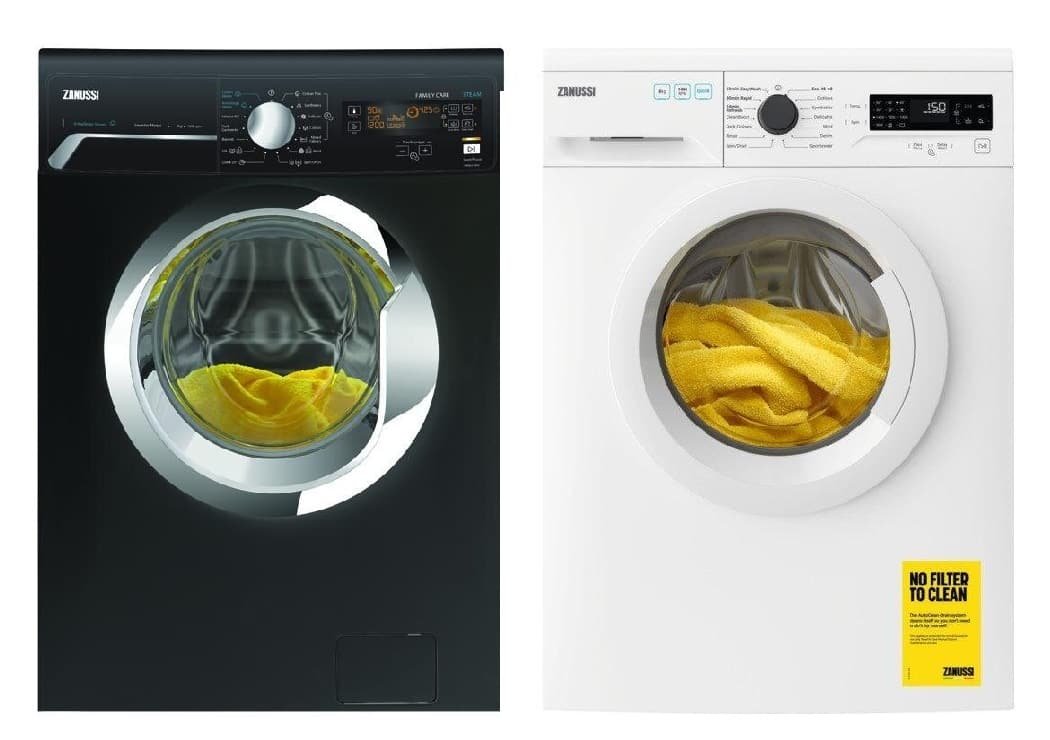 Certain problems are due to lack of simple maintenance or oversights, which can be solved easily without calling out an engineer. Before contacting your local Service Centre, please carry out the checks listed below.
| Malfunction | Possible Cause / Solution |
| --- | --- |
| The washing machine does not work. | Close the washing machine's door. Press the Start/Pause key. |
| Water leakage | Correctly connect the inlet water pipe. |
| The spin of the clothes is abnormal | Reload and distribute the laundry evenly in the drum. |
| There is the peculiar smell in the washing machine | Run a Self-clean cycle without any clothes. |
| No water is visible in the drum | No fault-water is under the visible area. |
| There is the remaining water in the softener's box | No fault- the effect of the softener will not be affected. |
| The remaining detergent is left on the clothes | The water-fast component of the non-phosphorus detergent will be left on the clothes to form into spot. Please select «Rinse&Spin» programme. or brush away the fleck after the clothes is dried. |
| The washing machine does not fill | Turn on the water tap. Check the selection of the procedure Reconnect the water inlet pipe. Check if the water pressure is sufficient. Check if the inlet water pipe is bent or blocked. Close the washing machine's door. |
| The washing machine fills and drains at the same time. | Make sure the end of the drainage pipe is higher than the water level inside the machine . Check if the drainage pipe and waste have been sealed. |
| The washing machine does not drain | Check if the drainage pumps is blocked. Check if the drainage pipe is bent or blocked. Check the height of the drainage nozzle, make sure it is 0.6-1 meter high from the bottom of the washing machine. |
| Vibration of the washing machine | Level the washing machine. Fasten the footing. Check if all the delivery bolts have all been removed. |
| The machine stops when the proce- dure has not been finished | Power failure or water cut. |
| The drainage pump is noisy during operation after the water has been drained | The water inside the inner barrel has been drained but there is still a small amount of water in the drainage pump and pipe. The drainage pump continuously work and takes in the air, then there wil be noise which is normal situation. |
| The machine stops for some time during the wash procedure | The washing machine adds water automatically. There is too much foam in the tube, the foam is being drained. |
Zanussi Washing Machine Manual PDF